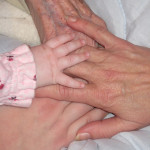 Listening to the lunchtime radio, I was fascinated by a phone-in on 'The Sandwich Generation'. These are people (mostly, but not entirely, women) who are sandwiched between caring for children or grand-childen and parents, and trying to hold down a job as well.
We used to think it was all about balancing motherhood and career. Now it's about balancing motherhood (or grandmother-hood), parent-care and a job, and a lot of people are struggling. Employers' attitude towards mothers with childcare responsibilities have always been variable, with some being very supportive, and others treating motherhood like a badge of shame. It seems that workplace attitudes to caring for the aging Ps is also variable. In many places parent-care is even more of a low-life activity than child care. The programme told of one woman who has faced disciplinary hearings at work because of lateness due to the care crisis. At least if you're self-employed you won't sack yourself, but taking time out from running a micro-business can be very difficult indeed.
Caring for the family has always been a part of life. We never had my grandparents living with us, but growing up I had several friends who did. In most cases, the mothers didn't work, or had adaptable part-time jobs, because women were neither expected nor encouraged to work once they had kids, unless it was something part-time. With her full-time nursing job, my mother was an exception, although even she ended up sacrificing work and family life to go and take care of my grandmother. The point is, caring across generations in the family is not a new phenomenon, but the expectations we put on ourselves have changed.
Another issue that is contributing to the problem is dementia. It's on the increase – 62% in 7 years in England, in case you were wondering – partly as a result of an ageing population; perhaps because of better diagnosis. When I was growing up, even into my '40s, it wasn't something you heard much about. Of course there was the local 'batty old lady', but for most older people the big fear was of being physically incapable of looking after yourself, not mental incapacity.That was certainly true of my parents. All their preparations revolved around the possibility of physical incapacity, yet my mother spent the last 2 years of her life in care institutions specialising in dementia, as did her younger brother.
What I know, from caring for and being responsible for my mother, is the strain it can put on your relationship with the parent, your partner, and family and friends more generally. At least caring for children generally has a hopeful outcome. Caring for ageing parents doesn't. Particularly if they have dementia.
The host of the radio programme asked one caller if they felt resentment. They struggled to answer. I know I resented the demands my mother made upon me, even after the dementia diagnosis had been made, because dementia can make you very unreasonable indeed. Talk about payback time! I also know the strain my stress put on my partner. Fortunately he's a tolerant and supportive man, but many relationships suffer greatly under this kind of strain, even to the point of break-up. As one caller to the programme said, "it's a good thing our relationship has such a strong foundation."
Apart from my partner's support, what really saved me was what I've learned from Hawaiian Huna. In particular, forgiving myself for my resentment, frustration, sadness and anger, and forgiving my mother for all her interesting behaviours (old and new). To forgive myself, I used Higher Self Therapy a lot. It's a spiritual technique for releasing negative emotions (like resentment). To forgive my mother I used Ho'oponopono, the Hawaiian Forgiveness technique.  Again, and again, and again! And it worked. By the end of my mother's life, we had reached a very tender phase in our relationship, and I was genuinely sad to see her go, even while I knew it was best for her and for me.
I'm curious to hear about your experiences – has being part of the Sandwich generation put a particular strain on your life?
If you're a member of the Sandwich generation, and you're finding it difficult to cope with the emotions and day-to-day stresses of juggling the multiple pressures of parenting and parent-care, get in touch to organise a COMPLIMENTARY 50 minutes discovery call to see how I can help you.