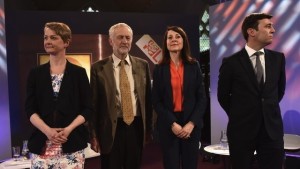 I hadn't expected to write about kindness two weeks in a row, but all the shenanigans of the UK Labour Party leadership election have got me thinking a lot about kindness and its relationship to bullying, and of both of them to the way we conduct our politics
In a nutshell, Labour lost the recent general election, and Ed Milliband, the leader, stepped down. So far so good, but a party that has lost two general elections in a row is a wounded beast, and, like all wounded beasts,  this one started to indulge in a range of fight-for-survival behaviours. Someone, somewhere, decided that they needed to spark a debate about what the party is, and where it should be going, so various MPs nominated a radical candidate: Jeremy Corbyn. Several of the MPs who nominated him made it very clear they had no intention of actually voting for him in the leadership election, they just wanted to stir the wounded beast up a bit. Which seemed bizarre at the time, but there you go.
With the exception of his constituency, and other radically minded people, very few people had ever heard of him, or taken notice of him up to this point.
Running against Corbyn were a bunch of usual suspects, former ministers and Labour Party Figures.   No-one thought Corbyn could win, but a kind of protest movement emerged which generated support for him. As the support grew, and Corbyn's ratings took a sharp and unexpected upwards turn, so the other candidates, as well as a number of Labour grandees started to pitch in against him, arguing that he could never win a General Election, so a vote for him is a vote for the death of the Labour party.
So far, so normal in the world of politics, but what has struck me is the sheer vitriol being aimed at Corbyn by his own party. People who vote for him are apparently 'morons' or 'need a heart transplant'. It's exactly the kind of thing that normal people resent in political behaviour. Slagging off your opponent rather than focussing on what you have to offer.  Thinking that because you once carried political weight in the country, you can wade in, deliver platitudes and expect people to listen (Tony Blair et al). Putting pressure via the media on getting the thorn in your side to step down – unsuccessfully so far.
It's also made the Labour leadership contest one of the most interesting things to happen in UK politics for quite a while, barring the odd general election.
So what has all this to do with kindness and bullying?
Sadly, bullying and throwing your weight about characterise a large swathe of British politics. Watch or listen to any of the live proceedings from the House of Commons and you won't have to wait long until someone indulges in it. 'Adversarial politics'. As a model of leadership it is absolute crap, but it's as old as democracy, and probably older. Still, it doesn't actually make for good government, and it certainly doesn't provide us with a model of decent behaviour.
If you went out in the street and started cat -calling and insulting other people at the top of your voice, you'd get arrested.
And sadly many of the women are as guilty of this as the men.
A very rent survey sponsored by The Children's Society suggests that children in England are 'unhappier at school than their peers in almost every other country' out of 15 countries. Only South Korea ranks lower. They are more likely to have been bullied, leading to a low sense of wellbeing, or left out by classmates. Yet even while we find this appalling, and throw our hands up in horror, our politicians are indulging in exactly this sort of bullying behaviour which could get them excluded from any half-way responsible school.
It's often said that bullies come from dysfunctional families, or situations where the bully feels they have no control. While that's true, people can bully others because they lack empathy, or because they actively enjoy seeing others in pain. Some enjoy the feeling of power, either for its own sake or because they feel powerless in other areas of their life. For some, it's an inability to handle their emotions, which usually results in physical violence. I do wonder which categories our esteemed Members of Parliament fall into.
At school I was bullied, and excluded very deliberately by my peers. I even became a bully myself for a time  – it gave me a sense of power, and a feeling that I was no longer the victim. As an adult I have found unkindness and conflict harder an harder to deal with. Our politicians don't currently seem to be listening to the public's wider discomfort about the way politics is conducted, so the best way to change things is by setting an example or supporting movements like Random Acts Of Kindness – always bearing in mind what one of the R.A.O.K directors says: '"It's not just about single acts, though…It's about changing your mentality from day to day." The desire to imitate plays a huge part in our behaviour, so even if the politicians can't give the population something worth imitating, the rest of us most certainly can.